"Making the BEST EVEN BETTER!"
A-dec 500 was released 20 years ago, as a leader in the market for:
Reliability
Ergonomics
Provision for technology
Flexible/modular configurations
Since then, upgrades were available to the A-dec 500 chair including:
Halogen to LED dental light retrofit kits
Air motor to electric motor drive to allow for higher-torque/electric and speed-increasing handpieces
A range of Ancillary items such as Intra-oral cameras/curing lights/prophy polishing systems etc.
For the last 10 years, A-dec has been working on the release of the brand new A-dec 500-B dental chair.
The challenge was that the original A-dec 500 was a robust and well-loved model. However, the team succeeded in creating a dental chair which would surpass A-dec's revolutionary design, technology, and reliability while continuing to promote the original pillars of the A-dec 500:
Peace of Mind
Optimal Access
Flexible Integration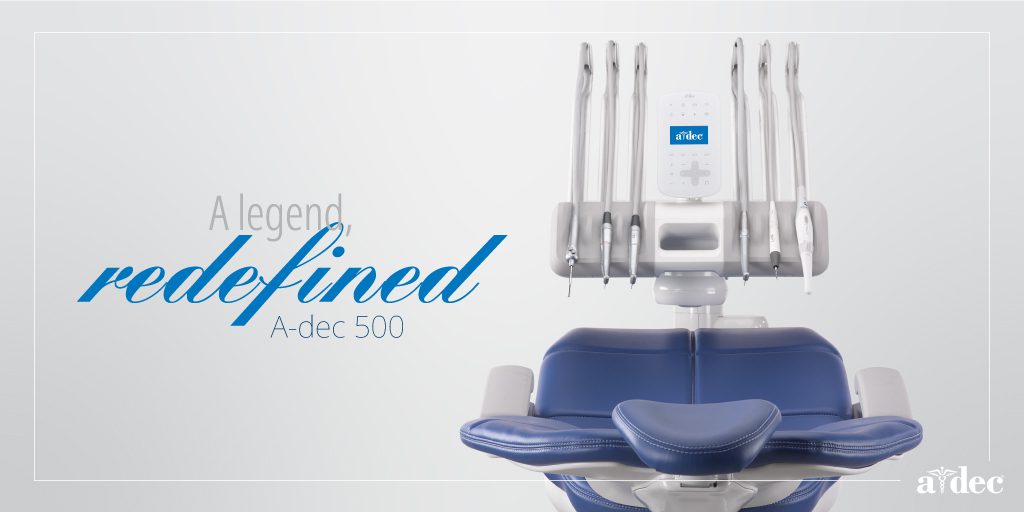 An immense amount of research and development went into making the BEST EVEN BETTER.
We are very proud to release the NEW revolution in A-dec 500 technology, which captures the feedback from doctors, technicians and engineers from all over the world.
The brand new A-dec 500 Redefined is an extremely well-thought-out dental chair with many handy features plus the following advances in technology:
Primea Advanced Air by W&H – optimal application speed + maximum treatment efficacy at all times.
Deluxe Touchpad Plus – medical glass touchpad with an arm that rotates left or right for precise viewing from multiple angles.
Enhanced Continental Delivery – extended reach with longer instrument tubing and mid-articulating whip arms.
Positive Positioning – better and more flexible radius positioning of the doctor's delivery system with smooth and lighter adjustments – use just one finger!
Automatic braking – capacitive activation means that you grasp the handle, and flexarm brake automatically releases. You can count on your delivery not to drift!
More tray mount options – with side, bottom and top workspace tray solutions and flexible positioning of the trays at each mount.
6-handpiece positions, individual angle adjustments for each handpiece cradle, and USB hub integrated to allow for full customisation.
LED Coolant Indicators on the side of the delivery means that you'll never adjust the wrong handpiece line ever again!
Beautifully designed modern new upholstery – enhanced to last longer, and be even more comfortable. Customisable stitching colours also available!
Increased weight capacity – even more robust to cater for patients up to 227 kgs.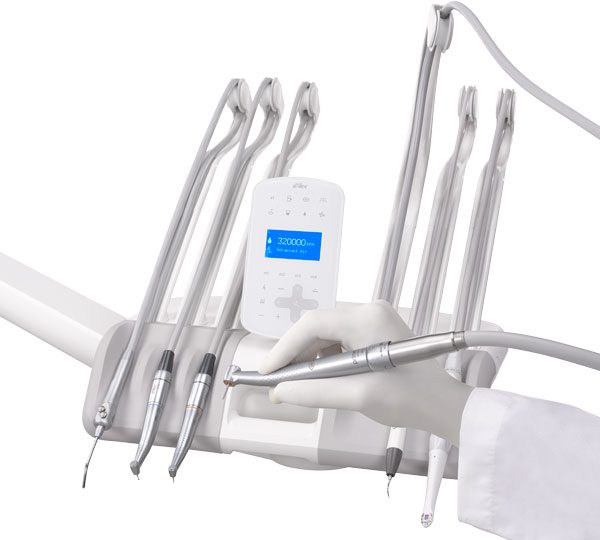 To introduce, educate, and demonstrate the NEW A-dec 500 REDEFINED to dental practitioners, we will be holding two exclusive launch events!
Sydney on Thursday 31st October
Canberra on Thursday 7th November
Each event will be hosted with free canapes and beverages, and we will provide CPD points with seminar presentations on Dental Practitioner Ergonomics & Infection Control and Compliance with AS:4187.
The NEW A-dec 500 dental chair will, of course, be on display for doctors to trial/demonstrate and experience the latest technology first-hand!
We will also have some of our network partners available at the launch to resource you with:
Dental Equipment Finance
Dental Fitouts
Sourcing Property & Negotiating a Lease
Dental & Medical IT setup
Dental Business Coaching
Dental Consumables for new clinic setups
click HERE to view our exclusive offers available only to those who attend our product launch events – don't miss out!
For more details about the A-dec 500 launch events, to request your personal invitation, or to RSVP your attendance – please fill in the event registration form below or contact us today on 1800 773 743
If you'd like an individual/personalised showroom visit or a demonstration, please feel free to also contact us as above.